Vistas de Cataviña FAQ's
Here you can find additional information on the Vistas de Cataviña property development. Please feel free to Contact Us if you have additional questions.

Go to:
• Lot Map 1 - with Topographical Overlay and Price List
• Lot Map 2 - with suggested home construction sites
• Return to Property Description Page


General Development Information
• What is the pricing of the lots?
See the Price List for exact size and price of each lot.

• When could I start building a home?
Immediately, if you want! The property is ready to go.

• What would it cost to get utilities hooked up?
Brand new electric lines are installed throughout the property, with a service junction available at the edge of each lot. We anticipate that it will cost an average of $500 to run individual water line, and the local municipality will charge approximately $500 for each new account, which includes a water meter. Each home will require it's own septic tank.

• What will be the annual property taxes and monthly maintenance fees?
We have not registered the new parcel numbers for the individual lots, so we don't have exact amounts for the property tax - however, we expect that it will be less than $50 per year per lot. We expect general maintenance will run 1.5 cents per sq. meter per month - which would be a range of $50 for the smallest lot to $110 for the largest. This amount would cover maintenance of the road and public spaces, and power for streetlights and other common utilities.

• Are there any restrictions on the size or style of house that can be built in the development?
No. You are free to build homes to suit your tastes.

• Will you require that we start construction in a certain timeframe?
No. You are free to purchase lots as an investment and wait as long as you desire before building. You will probably want to maintain the grounds to reasonable standards so it does not get too overgrown.

• Is financing available?
Bank financing may be available to qualified buyers for the purchase of lots and construction of houses. We can make an introduction to a local bank, but we will not provide any bank guarantees or letter of credit on your behalf.

• What are the average costs for building a home here?
Prices will vary, depending on the style and design of the home, finishing's, etc – but in general we expect that a typical "American style" high-end home will cost about $40 to $50 per square foot (so a 2,500 sq. foot home would be roughly $100,000 to $125,000 plus the cost of the lot). Very nicely built homes can be constructed for much less if you want a "local" style architecture, and you can easily spend much more if you want all imported materials.

• Is internet and satellite TV service available?
DirecTV is available starting at about $30 per month for basic service. Internet service is currently available using "point to point" wireless service - which provides a very good high-speed connection. A commercial service can be set up to provide a shared internet connection to all the homes in the development.


General area Information
• What towns are in the area?
The biggest towns in the Yunguilla Valley are Santa Isabel (population 20,000), about ten minutes drive from the property to the South - and Giron, which is about a 20 minute drive to the North. These are both medium sized towns with relatively good shopping and services. For major shopping, you will need to go to Cuenca (45 minutes to an hour away) or Machala (1.5 hours away). The closest communities are Asencion, Cataviña, and La Union. These are all less than 5 minutes away, but are quite small. La Union, however, has some very nice restaurants, a well stocked hardware store, and a garden/landscape supply store.

• How far is it to the beach?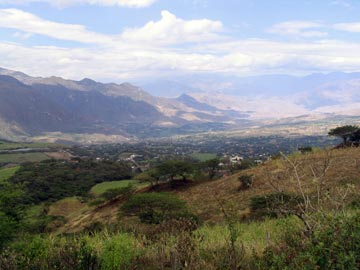 The closest beach is in Machala, about an hour and a half away - however, this is not usually considered the best beach area in Ecuador. For a nicer weekend vacation you will want to go to Playas or Salinas, about five hours by car.

• How about healthcare and schools
All of the towns in the Yunguilla valley are fairly small. There are good medical clinics and a private school in Santa Isabel, but you will need to go to Cuenca for major medical procedures and better educational facilities.

• Do you have other information about the Yunguilla Valley
See our article on Yunguilla that was published as a Daily Postcard by International Living Magazine. This is a growing area, with better than average long-term appreciation potential. Please feel free to Contact Us if you have specific questions.