Ecuador Homes Online - Architecture, Construction, and inspection Services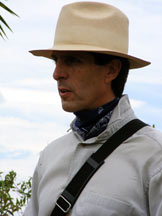 Ecuador Homes Online has partnered with Gustavo González and Associates, Cuenca's premiere building, land development, and landscape architecture firm, to provide full design and construction services throughout Ecuador.
Gustavo González is a UC Berkeley trained architect who understands the interactions between architecture and lifestyle, appropriate land use and ecology. We specialize in perfection.
Ecuador Homes Online can handle any size project, including:
Home or business remodeling (Cuenca area only)
Pre-sale home inspection (Cuenca area only)
Pre-construction site inspection
Landscape design
Single family home or apartment building design and construction
Engineering of roads, electrical, water, and sewer systems
Property boundary surveys, geological surveys, and topographical studies
Land development projects
Master planning and infrastructure implementation of new sub-divisions
Ecuador Homes Online specializes in ecologically friendly design and construction, with architecture, materials, and construction techniques that will satisfy the pickiest clients. Many architects pay lip service to ecological issues - we live up to our promises by paying attention to issues such as:
Ecologically friendly and easy to maintenance road surfaces
Proper sewage handling and water drainage systems
Non-toxic paints and other materials
Recycling programs
Landscape designs that utilize native plants and ground covering
Additionally, we understand the requirements of the American/European customers and we pay attention to the little details that are often missed, even in "high end" Ecuadorian construction - details like having enough power and phone outlets, larger bathrooms with more counter space, appropriate lighting for the shape and space of a room, soundproofing, and proper electrical/plumbing installations.
Please Contact Us for more information.